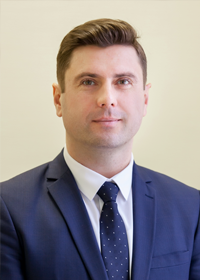 He was born on the 2nd of May, 1976 in Rybnitsa.
In 1993 he graduated from secondary school number 7 in Rybnitsa.
In the period from 1993 to 1999 he studied at PSU named after T.G. Shevchenko, Agricultural and Technological Faculty, Department of Veterinary Medicine.
From 2000 to 2004, he served under contract in the Armed Forces of the Pridnestrovian Moldavian Republic.
From 2004 to 2011, he worked at various posts at the Municipal Unitary Enterprise Tiraspol Water and Waste Water Services Department.
In 2009 he graduated from the Law Faculty of the Moscow State University for the Humanities named after M.A. Sholokhov in the specialty "State and Municipal Administration".
From May 2011 to December 2015, he served as Chief of Staff of the Supreme Council of the PMR.
From December 2015 to December 2016 - Deputy Chief of Executive Office of the PMR Supreme Council.
On December 21, 2016 he was appointed to the post of Assistant to the President of the PMR.
On January 13, 2017, by Decree of the President of the PMR No. 28, was appointed the First Deputy Chief of Staff of the Presidential Executive Office.
Married, has a son and daughter.